WOW!
I just found a new place for my blog hopping.
Have you seen the Blog Guidebook?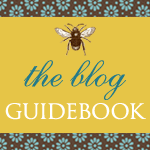 It is pretty cool. I read about it in one of the blogs I follow, so I checked it out today. Can you imagine, a guide to everything "bloggy?" This is the place to go if you want to bypass all of the search engine "searching." Here, all of the best blogs, in TONS of categories, are at your fingertips.
See you at the Blog Guidebook!